The 2010 Utne Reader Visionaries come from many backgrounds and disciplines. What they have in common is that rare ability to dream of a better future—so vividly and so passionately— that it inspires them and others to action. For, as Nelson Mandela proved beyond a doubt, the only thing that can stop forward progress is resignation....
Moms and Tots rock out in Williamsburg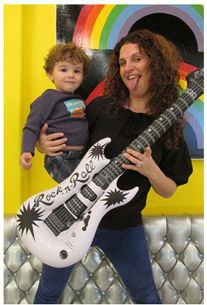 The indie pioneers of Williamsburg will not let young parenthood spoil their indie-rocker cred. That is why so many of them are naming their kids things like Cash and Marley, giving them Ziggy-era Bowie haircuts, putting them in toddler-size AC/DC T-shirts and taking them to the new Frolic! play space, a 5,000-square-foot, candy-colored facility in the waterside Edge apartment complex....